Description
Eplex7 DSP Psytrance / Hitech FX & Drum Kit sample pack
– is a collection of more than 600 original samples and drum hits for psytrance, darkpsy, hitech, psycore and any experimental, futuristic music genres. Psytrance / Hitech FX & Drum Kit sample pack is perfect also for many other genres like drum and bass, industrial, dark ambient, experimental music, electronic body music (ebm), sci-fi music, computer / video game music, futuristic film music and more.
Main backbone of every good sounding psytrance / hitech is good beat and bassline. Not just simple kick and bass! You need complete groovy percussive madness, hihats, claps, snares, breaks, tamburines, percussions, electro blibs, breakbeat samples. Combination of these percussions give right drive and groove to your music.
The sample pack includes everything that you need to create perfect aggressive groovy beat – psy kick drums, robotic snare drums, aggressive mechanic claps, hi hats, mechanotronic and robotic hihats, robotic percussions. You will find not just Drum samples and FXs inside, but also Psy Explosions, Organic modulated sounds, Experimental pads / atmospheres, Synth sounds, Short robotic movements and much more.
FX & Drum kit sample pack consists of hundreds of short and long FXs and experimental sounds that you can use in intros, outros and in track. If you are afraid of using FX samples (because somebody other will use the same sample too) don't worry! These samples can be easily resampled/modulated by pitch modulation, filter modulation, re-glitched and vst effected, so you can create brand new and unknown sounds.
Samples from Psytrance / Hitech FX & Drum kit used in Eplex7 Analog Bass Unit N4 bassline synthesizer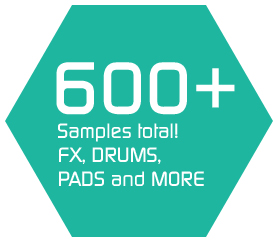 PRODUCT CONTENT:
1. Scifi Semi Organic FX – 79 Long Dark Psy FX samples, sweeps, atmospheres, psudopads, modulations, noises – experimental sound with mechanic or synthetic sound but made from organic (recorded) source, or organic sounds layered with synthetic source.
2. Explosions and Hits – 72 Dark experimental and psychedelic explosions and hits
Useable in various styles drum and bass, film music, all EDM music, video game music.
Not just classic explosions, but also submarine underwater hits, alien hits, sci-fi sounds etc.
3. Percussive and Scifi Hits, Drums – 18 Short mechanic samples, hits, robotic movements, perfect for creating futuristic mechanic beats / grooves.

4. Kick Drums – 33 Hich quality Psytrance, DarkPsy, Psycore, Hitech Kick drums.
5. Robotic Hitech claps & blibs – 64 High technologic claps, robotic claps, plasmatic hits, futuristic guns, sci-fi claps, blibs, electronic sounds, to create futuristic groovy beat.
6. Semi synthetic, modular FX & surfaces – 68 super atmospheric and dark samples created usually from combination/layering of organic sources and synthetic sources, made from modular synthesizers etc. heavy re-sampled/effected.
7. Bassline samples – if you want to create fast hitech, darkpsy or psycore kick + bassline combination that kill dancefloor, it is usually good to use bass samples instead of synthesizer, mainly if you use high BPMs to make bassline faster and more stable. You have available 33 killer one shot bass samples in this pack.
8. Hihats, Openhats, Treble percussions –  Forget classic oldskool hihats and open hats!
55 Futuristic robotic, nu skool hi-tech sci fi hihats, tamburines, open-hats.
9. Snares and breaks –  23 fast heavy futuristic snare drums, to make your beat fast and aggressive.
10. Classic VA PsySounds & FM Sounds –  Other sounds from this samplepack are heavy futuristic, sci fi FXS and atmospheres, but sometimes you need also classic synthetic PSY FXs which you can resynthesize and modulate, so you have 27pcs available here.
11. Synthetic FX Sounds –  59 modern, modulated, re-sampled, reglitched, futuristic FX psychedelic sounds and atmospheres made from purely synthesized sources.
12. Abstract atmospheric pads –  74 modern unique pads and atmospheres from outer space.
TOTAL: More than 600 Samples!