Description
Eplex7 Hitech / darkpsy plugin bundle:
Psychedelic FM Superesonator synthesizer + Hitech Bass HBS1 plugin synthesizer
Time limited offer! Now you can grab 2 plug-ins at even better price! Which products are included? Click on the image and learn more about these plugins.
Psychedelic FM Superesonator plugin synthesizer
FM synthesizer sounds are one of mostly used elements in psytrance / darkpsy / hitech or psycore music. But classic saw osc FM sounds are sounding very similar and boring after you heard the same sound in set 100x. Many synthesizers have average quality filters (comparing to DSP-chip – Motorola or Sharc, based hardware synthesizers). So we recreated these hardware dsp + analog hardware filters for precise, clean, liquid and sharp sound that cuts through mix.
Psychedelic FM Superesonator do not create FM razor sounds with basic oscillators but use special super additive oscillators where
you can "Draw" your own oscillator!
Stunning 128 high resolution drawbars available to create almost unlimited sound variations. Continue reading…
Create FM razor synths in endless sound variations extremely fast, draw your own additive oscillators real-time!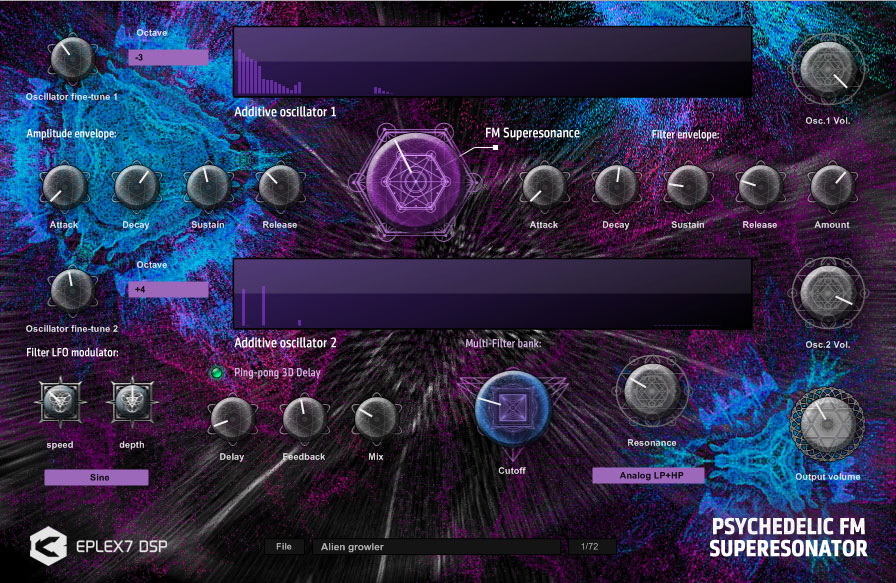 ARTISTS /

TESTIMONIALS:
from music producers
"Interesting plugin for resonance based sounds. The hand drawn oscillators allow a lot of different voicings, which additionally can be controlled and fine tuned. Presets give a good overlook but you can also design an shape your own voicings. Nice, different concept, therefore also different sounds than usual."

(Faydit – wrote on KVRaudio)
"I like your plugins from the beginning. There are not so many developers who are devoted to psytrance music genre. The overall usage of the Psychedelic FM Superesonator is quite easy and very intuitive to learn. I love the interface as well, with its psychedelic theme!"

(Ron Fellini – psytrance producer)
"I've been looking at new machines that you've put out over the years. There's some REALLY interesting and innovative work going on there! Impressive stuff. That new FM Superesonator synth looks / sounds amazing!"

(Burnt, Eplex7 customer)
Hitech Bass HBS1 advanced bassline plugin synthesizer
This is not next classic (and boring) saw wave type bass, because proper hitech / darkpsy bass should not be simple sawooth.

Hitech Bass HBS1 synthesizer uses advanced physical and digital modeling algorithms to create unique type of bass which works perfect with fast 180 BPM of hitech tracks without clicks and phasing problems. Works perfect with psycore, darkpsy / forest night psytrance, fullon, progressive, techno etc. Continue reading…


ARTISTS /

TESTIMONIALS:
from music producers
"Keep up the good work … Hitech needs more plugins."

(Frequency Sequencer – Eplex7 customer)



BUY NOW

& SUPPORT NEXT DEVELOPMENT, THANK YOU!
Here is what you get if you purchase FULL VERSION:
+9000 Plus GOOD KARMA Points (instead of -14000 minus Karma points if use pirated software 🙂
– Lifetime updates!
– Full version without any restrictions, with special wishes and registered to your name
NOTE: We manually generate full files within 24 hours after PayPal transaction is confirmed.
Thanks for your patience. If you didn't received download link after 36 h, please contact us.

BEFORE PURCHASE: please test a compatibility with your DAW and download demo version of plug-in from Eplex7 website.